This bridge in the course of the old Hadj Street (also King's Road) was not an aqueduct Bridge.
Located just east of the old main road, this bridge was the only passable route in the vicinity from north to south, especially during the winter time or raining season.
Johann Ludwig Burghardt describes in 1822 the following:
"Wady Om El Dhan [Meddan], coming from the eastward, with a bridge over it, built by Djezzar Pasha. In winter this generally proves a very difficult passage to the Hadj, on account of the swampy ground, and the peasants of the adjacent villages are, in consequence, obliged to cover the road with a thick layer of straw. "
The complete bridge, according to G. Schumacher's description, was 25,30m long and 11,10m wide. It had a main and two secondary openings. The height was, according to the given sketch, 4m above ground. Unfortunately, the bridge, which at that time had already partially disintegrated, is can only be located in ruins nowadays. The satellite image on the left shows south abutment of the bridge which clearly stands out by shadows. The bridge had a great significance for the travelers of those centuries. Due to the today's boarder, the road between Syria and Jordan does no longer exists. The important trade route from ancient times, was replaced by the border crossings Dera'a and Nasib.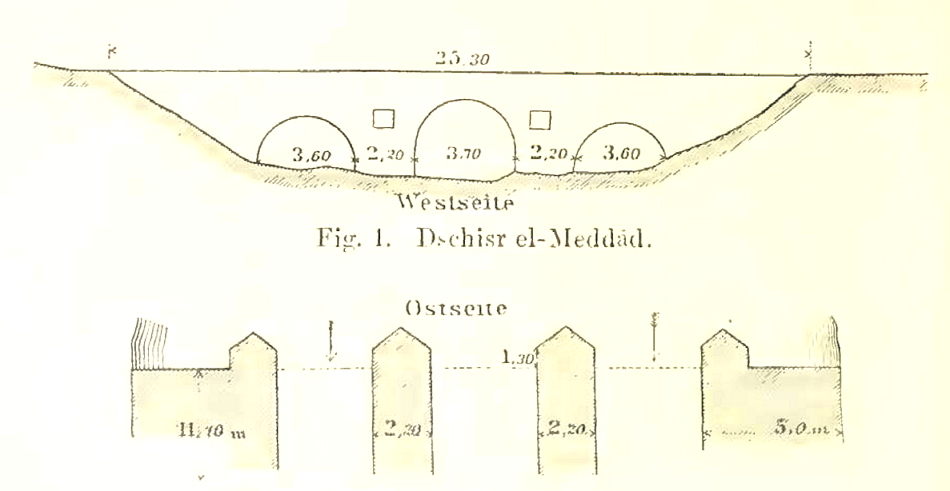 Clermond-Ganneau describes a nearly identical bridge with the same lion / predator ornamentation in Lod, the ancient Lydda. This bridge was unusually wide, with 13m wide in 30m length. It also had three arches and was built according to the inscription of the 13th century. Whether, as Burckhardt reports, the Meddan-ez Zedi Bridge dates back to the time of Jezzar Pasha (circa 1750-1800), is at least questionable due to the poor building construction which was already reported that time. In comparison to each other, the principles and relations of height above ground and arch span, become clear.
Due to the much greater height of over 7m, the bow spans in Lydda were 6,50m and 5m. At the Meddan ez Zedi bridge, these clear spans were 3.70m and 3.60m even both bridges were nearly of equal length.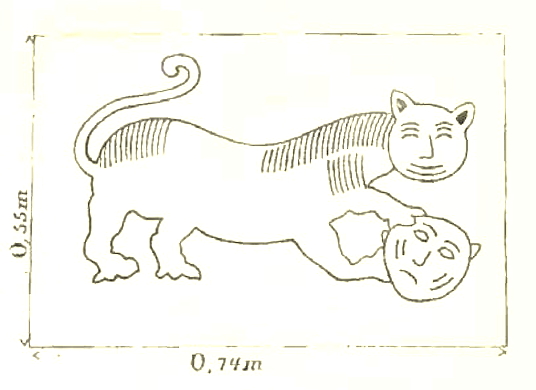 For information about the section of the tunnel between Dera'a and Muzeirib / Abou el Qanatarah, please see here (link to the Aqueduct Bridge and the tunnel section in Wadi ez Zedi.) You will also find information about the location of the real aqueduct bridge in the course of the Qanat Fir'aun in Wadi Meddan ez Zedi.
Here you can see the exact geolocation of Hadj Bridge.