and its high plateau is characterized by deep construction shafts between Al Al and Wadi El Gazahleh.
In the valley of Al Al including the water sources Ain Shiha and Ain Sukkar, the Qanat Fir'aun traverses the following wadi and then passes the Khirbet el Abdi, crossing the wadi of the same name. From there, the aqueduct runs up to 40 m deep, through the high plateau to Kharja, in order to leave it in a southwestern direction. Shortly before Barashta at Wadi Gazahleh, a 600m long section on the northwest slope of the Kharja plateau is relatively easy to recognize and visible.
An overview provides an excerpt from the corresponding map of the DPV
After digital calculation of the height data and the georeferencing of old s/ w satellite images, I was able to find construction shafts, which are hardly identifiable nowadays, and thus to find the course of the aqueduct along the Kharjaplateau. (see photo of the Univ. of Maryland on the left)
The following Google Earth image shows the lowest marked construction shaft about 35 years later. In the meantime, however, there is no longer any indication for the construction shafts in the current satellite pictures.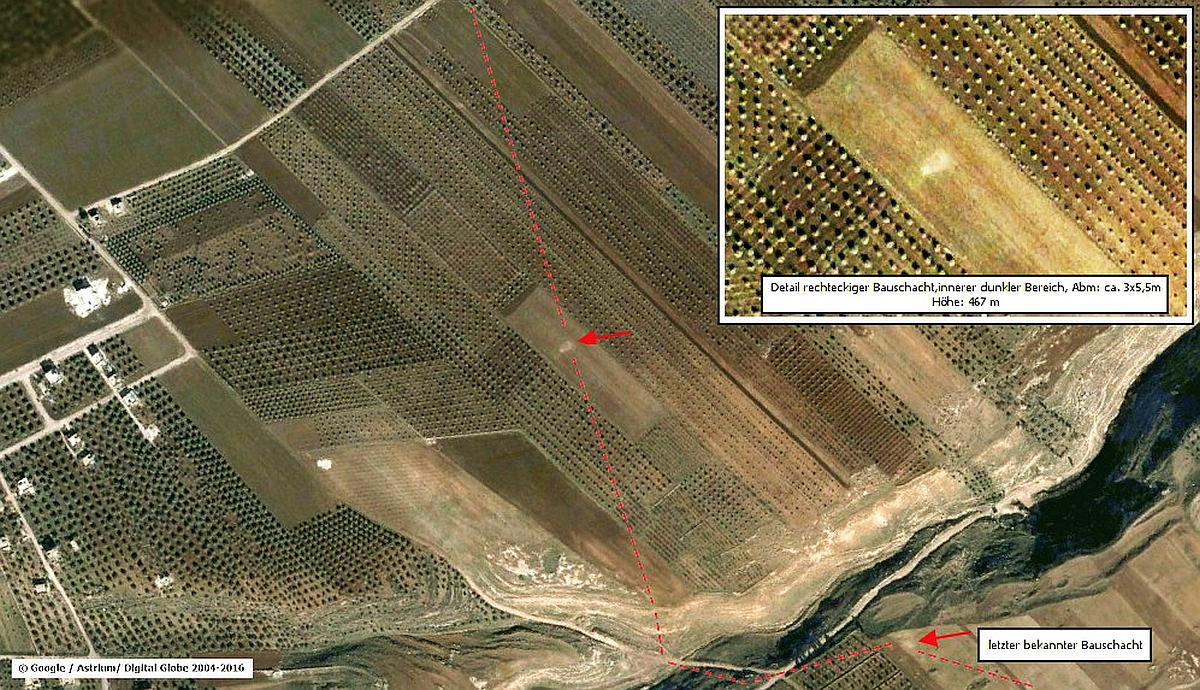 The Qanat Fir'aun continues west; more information about the following section are available at: the Bridge in Wadi Queilbeh and the distribution channel to the City of Abila
Here you can see the exact geolocation of this construction.